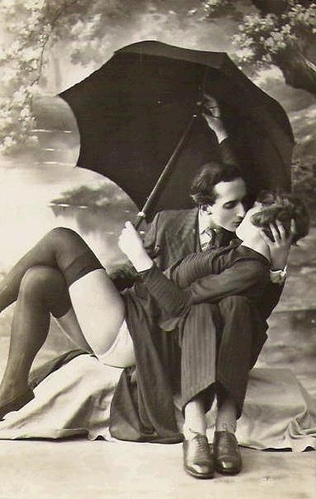 I was thrilled when this gent agreed to let me interview him for my sexual outsider series, because he takes swank and chivalry to a deeply fun and sexy level.  Every time I've seen him, he has been dressed to the nines, togged to the bricks, hittin' on all sixes from head to ground grippers in fabulous vintage attire. I was thrilled to learn that being part of the vintage scene is completely intertwined with his kink life. What a combo! He is just the cat's pajamas (where the pajamas are authentic vintage, and get used to tie a girl up at the end of the night).
One of the first things you told me when we began to talk about doing an interview was that you wanted to share your process of consciously choosing to expand out from "vanilla" sex. I think that the desire to do this is something a lot of people can relate to, though not everyone chooses to embrace. So how have you come to consider yourself a sexual outsider, and what was your process like?
I consider myself a sexual outsider for several reasons, the most cliché of them probably being that I like things, people, places, and acts that society generally frowns upon. Those things usually revolve around my core of kinks. I like to do things or have things done to me that make people generally uncomfortable. I am an outsider because vanilla sex is just that: plain. The more taboo the sex, the better.
I did not really have a set process, or at least nothing I immediately recognized. I guess years of realizing what my kinks are, and looking for compatible people helped. I do remember quite clearly when I decided that I was an outsider. It was about three years back. I had a good personal friend, who was an amazing slut. I really loved her as a friend, and also as an occasional sexual partner. She was younger than me by maybe three or four years, but had much more experience in the realm of "unusual sex," partly because she was bisexual. As time went on, we became better friends and of course, occasional lovers. It was occasional because she happened to live in an adjacent state, so we would visit each other several times a year. But it was one time in October that turned me. She invited me to this event called "Fetish Ball." College friends of hers frequent it, and invited her. Knowing my general interest in kink, she invited me. It was a single night event in a two story industrial complex that has musicians, dancers, kink demonstrations, and the best part: an uncensored after party. That night I learned how to use tools of the trade, learned about pain- both giving and taking- and the difference between good and bad pain. And I got to spank another man's wife. In the long run I think they wanted to swing with my friend and I. What a pity I didn't catch on to that! But what we did was secure both his wife and my friend together in stocks, bent over. He motioned to me to spank his wife, and the look in his eyes was the sincerest look of "we are all here for a good time." Then I did it, and that was the beginning.
That sounds super hot! And I love that your first experience of this was in an informed setting. Exposure to the kink community can really aid in owning that part of yourself. So in what ways do you find this identification helpful? Unhelpful?
I actually prefer being identified as unhindered," primarily because being unhindered is the reason I am a sexual outsider. Unhindered by social norms and expectations, that is.
That makes perfect sense. It's about living outside the box. And that can be so hard, especially when socialization is a primary vehicle for learning about our options, yet it is far from all-inclusive. What advice might you give your young self in regards to sexuality?
I would tell myself to take the chance and chase the women I wish I did all those years ago. I had one minor (some think major) kink in high school, that I still greatly enjoy to this day, but back then it scared me to death. I have a foot fetish. High school was the first time I saw a large variety of girls wearing open-toed footwear, and the feelings it gave me were odd and confusing. I thought that girls would think I'm too weird and avoid me; that I would be judged harshly and cast out of my normal circle of friends. In hindsight that was ignorant thinking on my part. Girls dig weird guys, plus it would have set me apart from all the other hormone-enraged boys. It would have showed that I enjoy more parts of woman over the normal M.O. of tits and ass. My thoughts currently, which I wish I had then, are if you can take care of a woman's feet, you can take care of the woman.

Well there's my new catch phrase! So then what resources do you recommend to others wanting to explore their outside-the-box sexuality?
Actually, Facebook is a wonderful source to find kinky things. There are many burlesque shows, fetish-related events, and other sex-related events that advertise there. However, being that it's Facebook, it can be somewhat easy for others to see what you are up to, which could be good or bad. But in general, the internet is your best friend to discover or practice kinky things. But it's important to know what you're in for. I was lucky to have friends who already knew how to safely go about things, so I had steps to follow in. I say start with a definite known kink, follow it and see where it leads. For me, going to Fetish Ball did that. It opened the flood gates of sexuality, pleasure and all around fun.
At what forms of kink are you proficient?
Short: Bondage, sadism (but it varies from person to person), dominance, foot play, group sex, role play, erotic massages, knife play (but no blood or actual cutting), body painting, pornography, swinging.
My favorite form of kink is something I think I came up with, because I haven't seen it anywhere else, (but I could be wrong since I do not keep up with popular culture). It's something I call being a Gentleman Deviant. You can attest to this, since you met me at a vintage event. I love to dress up in a suit, tie, tuxedo- all vintage only- comb my hair, shine my shoes, be as well-groomed as a man can be…and then play the devil. I will wine and dine, be sophisticated, charming, funny, a perfect gentleman, but deep inside a fire burns. I may not always act on it, but I do my best to put the feeling into any woman that I am with that I am the devil. Women can't see it, but they can sense it. Actually, a lot of the kink I like to do is done with me all done up. It's sophisticated torture, and it's simply delicious. I know I'm successful when a woman, whether or not I've known her sexually, refers to me by the end of the night as The Devil.
Wow! You take the term "decophile" [a word that lovers of Art Deco like to use for themselves] to a whole new level! I've seen you out several times, and never knew the depths to which your sauciness goes. How devious! So do you know what needs your kink meets for you? Is the word "Devil" a religious reference for you?
Honestly, I am still figuring it out. For me sex is never black and white; pleasure is never black and white. I understand why I do certain things from purely a physical standpoint, but the emotional satisfaction of others is still somewhat of a mystery. I do it because I love it, and it makes me feel whole, but why? Who knows? It's a great mystery that I intend to study for years to come.
And not being a religious person myself, it is not a religious reference. I love the mysticism behind the idea of a devil, and I try to embrace it. The Devil has both bad and good points behind him, it just depends from whose point of view he is seen.
Do you have any cool tips on your type of kink?
Just be cool and confident with it, and of course start small. Rome wasn't built in a day, so don't try to build the Coliseum on the first try. YouTube actually has helped me quite a bit on several of my kinks. I care more about her pleasure than my own, so researching and learning helps me do my job better.
Do you have any fun names for things you do?
I like to call it the Devil's Work.
I love that! It really reclaims the "naughty" aspect of kink. Are there things you haven't tried yet that you might like to get into?
I'm honestly not sure, I am some what closed minded towards being a submissive, but who knows, maybe one day. I think, with more exploration, fetish clubs and events, I can find something.
That's fairly common, especially when you prefer to focus on the other person's pleasure. Do you have a sense of what might be blocking you there?

It's hard to say really. I've spent the majority of my life not in control of my own life, so that the thought of surrendering myself to someone is just alien. It could also be a trust issue, I guess. I've never opened myself up to trust my life in someone else's hands.
I know that a lot of people can relate to that. It is incredibly vulnerable to be sure. From where do you draw strength and support for doing what you do?
My significant other, though not as open as I, is the one who truly set me free. Through her I have indulged almost all of my sickest of fantasies, and created a thousand more. She is my sexual muse. Maybe one day I can tell that story.
Well of course I'd love to hear more from you! And a sexual muse? What a poetic experience of sexuality. Your willingness to open up about your sexuality is so appreciated. And I do believe that fingers are now officially crossed to see you dressed up as the devil himself for Halloween.