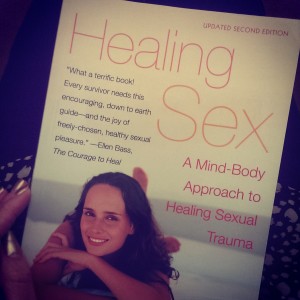 I should have written this review ages ago, because I've been recommending this book for ages! Haines' work is not only an excellent resource for moving through difficult experiences into having fun and fulfilling sex, it's also one of the most well articulated descriptions of somatic work that I have come across. If you're interested in having a firmer grasp on somatics, you can stand right there in your library or bookstore and read just the introduction.
One of my favorite things about Healing Sex is the author's optimistic and sex-positive tone, and this has been echoed by many of my clients. And what makes Haines' optimism so enjoyable is that it stems from clarity about the need for therapy, and the simplicity of the somatic process. Sexuality is complex enough without trauma, so the necessary focus is on allowing your body to be your guide. Sensations bring clarity, and offer direction. The body is a very useful guide in any process, but it's essential for overcoming body-based difficulties. Haines further inspires engagement in this healing process by reminders that the end result is, not just better, but awesome sex.
The heavy somatic component also invites a lot of empathy from readers who have not experienced any sexual trauma, making it an excellent resource for partners. We all have bodies, so being educated about the body's sexual response processes is pretty darn relatable! And the book is filled with anecdotes, which serve to ground the author's points in visceral awareness. These are also great for partners who sometimes can't quite "get it." That said, while I would not say that they're at the level of re-traumatizing, some of the anecdotes are especially difficult to hear, and I have recommended to some clients (particularly empaths or the highly sensitive) that they skip over these parts. All the stories and quotes are italized, so this is fairly easy to accomplish. I myself feel things very easily, and I've gone back and forth with reading them when reviewing a particular chapter.
I also love this book for its political savvy. Healthy sexuality is hugely important to a society, and yet we don't get to engage much in intelligent and useful discourse about it. Haines emphasizes the importance of finding community, and/or supporting people and organizations that foster healthy relationships to sex, whether it be support groups, anti-rape coalitions, or sexual educators. More education and more conversations will mean healthier and healthier sexuality for current and future generations.
To boot, Haines finishes with a wonderful list of resources, which I myself have gone back to over and over.
Staci Haines' own wonderful organization, Generative Somatics, offers therapy, workshops, and social justice opportunities.