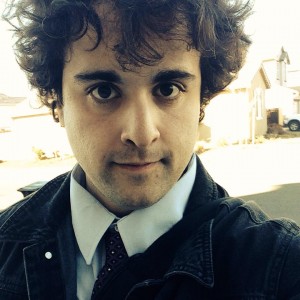 David is a local performance poet featured across Sacramento whose work primarily focuses on his dealings with Major Depression. He is passionate about love- not romantic love, but the idea of caritas, which he describes as a universal love built through impacting the world around us. I'm very pleased to have the opportunity to talk with him about this topic. Awareness of asexuality is finally increasing, and I believe that it's very important to be educated on just what it means. David is here to answer some basic questions, to share his particular experience, and offer his totally awesome insight.

David, thank you very much for talking with me. Since the intention of my interview series is to expand understanding of the world of asexuality, it seems very fitting to start with your concept of caritas. The way you've spoken about it is beautiful! How is it different than agape? And how does it show up in your work?
Well thank you! The difference between the two is subtle, but important to me personally. Agape translates roughly to "to greet with affection," whereas caritas is charity. One is a pleasant hello, the other is an active decision to make the world around you better.
Caritas is one of the major themes of my art. I've written and performed one-man shows and features based off that basic idea of growing yourself and the world around you. Show yourself the same love you show others.
That is just lovely. It's no wonder you were open to this interview, and are so easy to talk to! Now, you responded to my request for asexual interviewees. When did you begin identifying this way? What was that process like?
I never really "identified" as asexual – I don't understand people who are so eager to label themselves, and find a cheap source of an identity. I identify as David Reaume Loret de Mola – part of what makes Me who I am is that I also happen to strongly not prefer sex unless it's with someone I have a very strong emotional connection to (which has only happened once in my life).
I have had sex with other partners (which may seem confusing to anyone reading this), but it was because I knew it's what they wanted. For me, the satisfaction was in making them happy, and was equivalent to – for example – paying for someone's meal.
I am not aromantic, however, so to function in a relationship with someone from the 99% of the world who isn't asexual, sex is going to be a compromise I have to make. I realize this, and I am not at all afraid of this compromise.
For me, I've had Major Depression since I was a kid. But even on my up-cycles, the sexual interest just isn't there. In a relationship, and in life in general, I am far more interested in a deep conversation where both sides reveal themselves openly and honestly. I am much more interested in the quiet moment of two hands held together in silence while the credits of a movie play.
That silence is trust – a trust in knowing your partner won't judge you for not having anything to say.
Asexuality is such a spectrum in itself. If you're willing, would you speak to where you land?
It really is – I always tell people it's a completely separate thing from sexuality. It's like a slider-scale.
I've met hypersexuals, and I've met hyposexuals. And I've met gay, lesbian, CIS, transgender (et. al.) who have varying levels of sexual desire.
Your orientation is where your interests lie, and then there's the slider for how much sexuality is important to you. And there's a proverbial slider for how much physical contact you need. And one for how much deep conversation you desire. And one for…you get the point. Sexuality is just a small slider on the soundboard of orientation.
For me, I tend to be CIS romantically. And I require an extreme emotional closeness with someone to even desire sex with them.
Oh tons of people can relate to that! And I love the image of sliders on the spectrum. You mentioned physical contact, which I think is a very important aspect of this topic, since there are many misconceptions about it. Would you speak to your own relationship to physical touch?
Touch is a form of trust – you are literally allowing someone access to a piece of who you are. And in a relationship trust is the more important part of who I am. Holding hands, resting your head on someone's shoulder – these are close, intimate things.
When has the term asexuality been helpful? Unhelpful?
Well, seeing as how I don't identify as anything but David Reaume Loret de Mola, it's not a big deal. I usually bring it up on the first couple of dates, because for some people sex – and the ability to have deep, meaningful sex – is as important as anything I value in a relationship. I'm not against the idea of sex (that would just be silly – I'm literally alive because of sex; how could I hate it?), I just strongly don't prefer it.
My reaction to finding out that asexuality was a label was to feel a moment of comfort with the fact that I'm not alone in the feeling, but beyond that, I really haven't gotten anything or lost anything from it. The most I've gotten about the term are curious minds, trying to figure out what asexuality is like. And, with straight men especially, I usually explain it like this:
Me: "Do you have guy friends?"
Them: "Yeah!"
Me: "Do you want to have sex with your guy friends?"
Them: "No…"
Me: "Apply that feeling to everyone. That's me."
They usually get the point after that. People just need practical comparisons to their lives, sometimes, to understand things deeper.
Exactly! That's just why I wanted to talk to you. Filling in the blanks, while your answers will be particular to you, can keep out the assumptions. So what advice might you give to your young self in terms of sexuality?
Don't give in to peoples' desire just to please them. It's okay to say no to sex, and let people know you don't want it – she won't hate you for for being honest. If they love you, really love you, and are worth keeping around, they'll accept you even if they don't necessarily understand it completely.
Hell yes, beautifully said. What resources might you recommend to others who identify as asexual? What might you recommend to someone who feels closed off to or afraid of sex rather than simply disinterested in it?
Friends. I'd recommend finding friends who will understand you and not care about the fact that you don't have sex with other people. Because it's just sex.
For the latter folk I'd say: if you ever feel interested in a partner, or a person, don't shove that feeling away because it feels strange or foreign. Own it. Don't be so defined by your lack of want for sex – you might be shutting out a piece of who you are. There's nothing wrong with a healthy sex life. If you wear abstinence as a statement, that's one thing. But asexuality isn't a statement – it is a state of being.
From where do you draw strength for what you do?
I draw my strength directly from the artists I work with and the community around me. We empower one another to be individuals, and not be guided by basic labels that we throw on each other.
We are so much more than the words we speak.
We absolutely are. A huge part of why I work somatically is for that very reason- words can be terribly limiting.
I find that there are too few examples of asexual folk in media. Do you have any asexual role models, fictional or otherwise?
I can't say I do. But, then again, I haven't needed the outlet or validation of a group of people to fulfill my life in quite some time.
The nice part about this is – if you don't understand me? Great. I can reach out to you. I can talk and have a Real conversation with strangers about it.
I don't need another human being to justify my status as a human being. I exist. I live. I am Me.
I love that! Moving through the need for group identity and validation can definitely be an asset! I'd still like to see more accurate representation in the media, but that's also a battle, isn't it? It's both an easy and a risky way for people to learn about other and the world.
What would you like the general public to know about asexuality? Is there anything else about which you'd like to spread awareness?
Yes – asexuality is not an identity. It is not a "way of life." It is not something you put on in the morning.
Some people love sex – I appreciate them. I just happen to really not care one way or another for it.
I think we need to stop making sex such a main-focus of our identity, because there are far too many teenage boys and girls who grow up defining themselves by the number of sexual partners they have. And all it creates are confused adults, sexual assault cases, and rapists.
My other issue is Depression. 1-in-3 to 1-in-4 of us go through it, and we never discuss it. No one talks about it. So many of us have suicidal thoughts, and we are so ashamed because we think we are the only ones who go through it.
I very much agree in terms of multi-facetedness. You will often hear me say that sexuality is a really big deal, and it's also just not that big of a deal. Just as you've said, it's only one part of us. The problems arise with the stifling of a part of ourselves. And this is hugely impactful when you're struggling with depression. Like sexuality, there can be so much shame and fear around it, and that does not assist with healing.
One last thought- and this parallels with some thoughts I've shared about depression. Labels are a base for defining yourself in a world where there are so many questions (especially when you're young and nobody has any answers to give you). It's a starting space to build yourself from. But – and depression is a decent example of this – it can be a detriment if you never step outside of it.
I didn't know what Depression was until I was 14. And I'd fall apart because it just felt this was life, and I was that weird kid who just was born to fall apart.
Then I found the word, and I defined myself by my Depression for a long, long time. It gave me comfort, because I knew I wasn't alone in the challenge. But, at the same time, because I accepted it as being part of my identity, I felt it was integral to who I am and I couldn't escape it.
Distending that, and realizing it's just a piece of my existence and not a major determining factor in my personality and lifestyle was the best thing I could have done. Yes, the label helped, but it was pushing for myself to find who I am – beyond the label – that changed me. It's not a perfect parallel to gender orientation, by any means, but it has overlaps.
The point is: I want to push for true individuality, outside of cheap labels.
Oh man, that is just paramount. Labels really are only as good as far they stretch. Thank goodness that you are outspoken about two of the most difficult topics on the planet! I think it's wonderful that you are making yourself such a big part of getting the conversation going. And through art! That is an incredible way to reach people.
David directs a one-man show called "Scatterbrained," and is about to hit the road with his art. Find out more about his work at gofundme.com/TheTour, and follow him on Twitter and Facebook. And if you're local to Sacramento, you can sometimes catch him performing improv at ComedySportz.