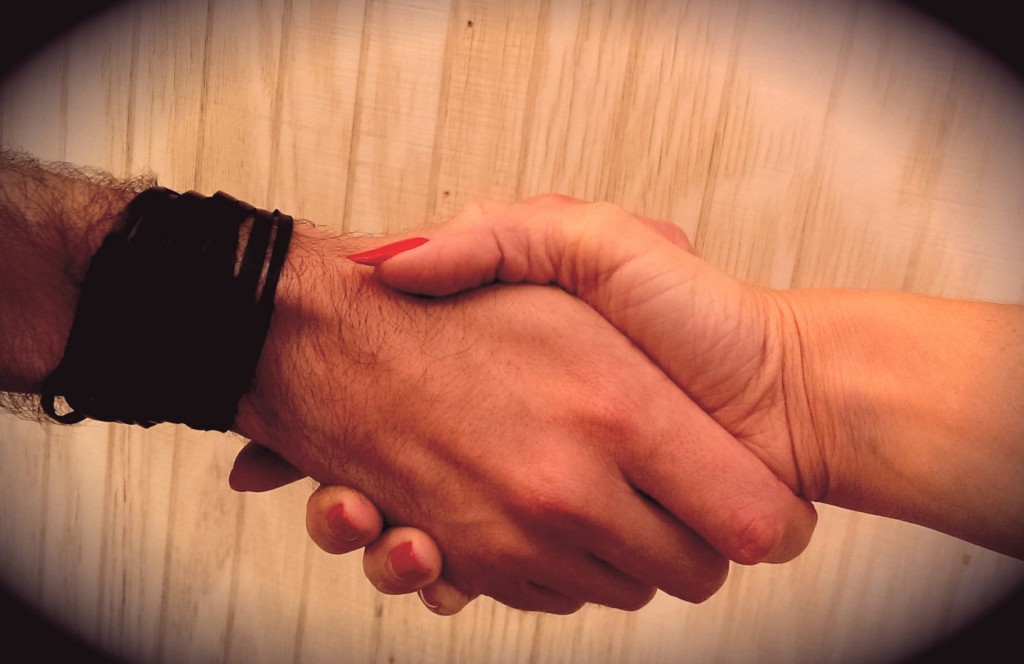 BDSM is a catch-call term for bondage & discipline, dominance & submission, and sado-masochism. Essentially, it's playing with power in the bedroom, and it can be super duper fun and hot. I rarely need to explain the acronym anymore, and I think that's great. Kink is becoming increasingly mainstream. But because there are lots of emotions involved, it's about way more than just technique. Here is a basic guide for adding a little BDSM play to your sexual bailiwick.
Basic Rules
Safety
Safety safety safety. Everyone involved must feel physically and emotionally safe at all times. This means that each person is genuinely interested, has given explicit and enthusiastic consent, and that at least the following rules are followed:
Know your partner(s). BDSM play is not something to venture into with a stranger, or even a new partner. You must have a solid amount of information about each other, and have had enough time together to fully trust one another. Vulnerability is a huge part of this world, so it's absolutely necessary that it's safe for you to become so.
Negotiate. Know what you want and don't want, and communicate it clearly to each other. Most of this should be done beforehand, but you should also agree on how to negotiate in the moment. It can be nice to leave some room for flexibility, but tell your partner where your emotional and physical limits exist, and respect them once sexy time has begun. In-the-moment negotiation should never involve bending the rules you previously set. Communicate with each other afterwards, too. What did you enjoy? What didn't you enjoy?
Bind right. If any body parts which are tied up begin to feel tingly or numb, untie them immediately. All bindings should allow for the insertion of at least two fingers in order to maintain proper circulation. Be mindful of using scarves or ties, as they create knots that are difficult to undo.
Establish safe words or gestures, and use them. Make them clear, avoiding words that you might like to use playfully, such as "stop it," or "don't." Make them easy to remember (avoid Bill Paxton or Bill Pulman). And do not be shy about using them. It is a normal part of BDSM play, and feedback in the moment is great training for future sexy time play. Treat yourself to this amazing thread on Reddit to hear about other folks' safewords (and jokes).
Prepare for the unexpected. Keep scissors, handcuff keys, etc. easily accessible in case of surprise visits from Mother Nature or your actual mother.
Stay attentive. Stay present and mindful of yourself and your partner at all times. Be sure that you are actively in your body and feeling sensations (always a good rule for sex!), so that you can communicate what you want and need in the moment. Heart rate, breathing, sounds, movements and muscle tension tell you a whole bunch about what's going on for you and the person you're pleasuring. This is especially helpful for when anything unexpected arises, but it's also just a great way to ensure that everything is as enjoyable as possible.
Fun and Pleasure
Sex is a complex landscape. That's why it's beautiful and enjoyable, and it's also why it's necessary to be mindful of your process. Don't lose sight of the fact that, like any sexual act, BDSM play is always meant to be fun and pleasurable.
Be playful. Because there is so much involved, it's important that you stay playful and patient. If a binding comes loose, a blindfold falls off, or anything else happens that "breaks the scene," allow yourself to take it in stride. Playfulness and flexibility is an asset to many areas in a relationship, and some of the most solid couples I've worked with have gotten to where they are by working directly on improving their sex life.

If negative emotions or sensations arise, attend to them. That can mean something as simple as shifting your position, or calling it quits on the spanking. But it can also mean using your safeword to take a break or for stopping things altogether. Be honest with yourself, and communicate honestly with your partner. BDSM sex is intense, and therefore more capable of eliciting negative stuff. It's not at all uncommon to work with a sex-positive therapist in order to process what comes up for you sexually. Many of my clients specifically sought out therapy in order to move through negative emotions and sensations in order to have a healthy and fun sex life. And it's completely awesome to see that kind of healing happen.
Remember that a little can go a long way. Our bodies are elegant systems, and can respond to very subtle changes in sensation. Even the suggestion or symbolism of certain things (like simply having rather than using a whip) is sometimes plenty.
The Simpler Things in Kinky Life
It's no joke that BDSM play can be risky. If you're just starting out, try one of the following activities first. For every last one of these, the same rule applies: communicate, and keep communicating.

Light Binding
A lot of people enjoy binding and/or being bound, so this can be a great place to test the waters. For binding, start with soft or flexible material, such as bondage tape or faux-fur lined handcuffs. The psychological appeal of binding is often about the feeling of vulnerability, which can take very little to elicit. For this reason, you might first try binding just your hands, or just your feet. Then incrementally add more bindings, if you want to. Remember, always allow enough room for two fingers worth of slack.
Dirty Talk
Talking dirty to each other can be very effective for evoking the desired emotions and tension. And using words is physically safe. But be sure to negotiate what you each want, as language can evoke negative emotions that will shut down the body's pleasure responses.
Light Spanking
Spanking is another thing that a large part of the population enjoys. It's a burst of sensation that wakes your body right up. Introduce it when it's right for you- some people enjoy it as foreplay, others enjoy it only after they're signicantly aroused. Most informed sex stores offer paddles, spankers and slappers of varying softness, and there's always that perfect little slapper of a hand. Start slow, and find out where you land on the spectrum of sting, which is felt more on the skin, to thud, which is a deeper sensation felt in the muscles and bones.
Massage
This suggestion sometimes surprises people at first, but when you really reflect on massage, you realize that it involves a lot of BDSM-y sensations and emotions. The receiver of the massage is essentially submitting to the control of the giver. And massage is all about discovering what a particular body wants in order to feel pleasure. Some people enjoy light caresses on the skin, others enjoy deep fascia-rearranging massage. It takes very little to make a massage super hot and sexy, and this can be a really great way to try on the emotions and sensations of powerplay.
Contraindications
BDSM play is not for everyone. Steer clear for now if…
…you have unacknowledged or unprocessed trauma of any kind. See a sex-positive trauma therapist, especially before you venture into powerplay.
… if you are in an unstable relationship or one that involves distrust, jealousy, or manipulation.
… you have significant or ongoing numbness of sensation. This can be a sign of trauma, but it also just makes it difficult to play safely, as you aren't getting enough feedback from your body.
… you aren't sure about trying it, but your partner wants to. Instead, further educate yourself on the subject, and see if a genuine desire is created within you.
Resources
There are oodles of great classes, books and videos out there. Here are a few of my favorites:
Classes and Workshops
The Pleasure Chest offers weekly workshops, many of which are on different types of BDSM. Check out their calendar of upcoming events in Los Angeles. They're free!
Just about all of the informed sex stores offer classes, and have educated staff on duty who are happy to answer questions for you. A Touch of Romance and its sisters, Good Vibrations, The Pleasure Chest, She Bop (my favorite name for a female-oriented sex store), Babeland, Jellywink, and Smitten Kitten are all excellent. Hopefully one of them is near you, but all have great websites.
Wherever you live, the whipsmart Leandra Vane can support you through her fabulous blog. She's open to and awesome at answering your questions via her comments section, or you can shoot her an email.
Podcaster Sex Nerd Sandra is also a mobile resource. She's an excellent sex coach and she even offers personal sex toy shopping!
Books
SM 101: A Realistic Introduction by Jay Wiseman
How to be Kinky: A Beginner's Guide to BDSM by Morpheous
The New Topping Book and The New Bottoming Book by Janet Hardy and Dossie Easton