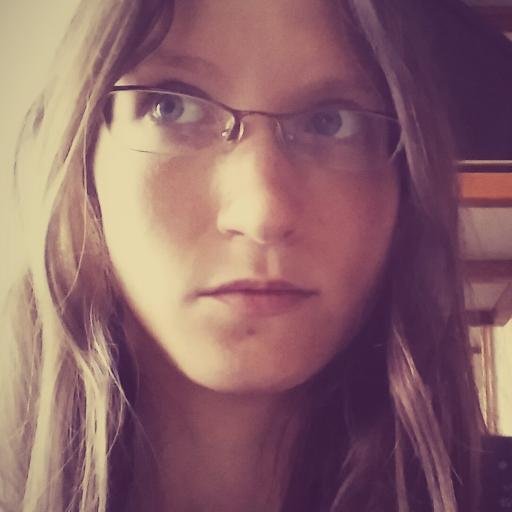 Leandra Vane is a sexuality blogger and erotica author. She was born with a physical disability and works professionally with people who have developmental disabilities. With a background as a librarian and a bachelor's in literature, her real love is reviewing and recommending books about sexuality and body identity. She's a sucker for knowledge, emotional intelligence, and self-actualization. In other words, she's a total badass.

Why do you consider yourself a sexual outsider, and what was your process for deciding to identify that way?
I was born with Lipomyelomeningocele and though most of the effects are invisible – I can't feel about half my body, I have kidney/bladder problems, nerve pain – there are a couple visible signifiers in that I walk with leg braces (that I usually keep covered) and have an uneven gait due to a shallow left hip. Even so, by the time I reached college I was completely independent. I lived on my own, commuted to college (and college parties) and usually had two jobs at a time. I am now married, have a full time job, run our household unassisted, etc. Despite my independence and comparatively mild visibility, both men and women asexualize me because of my disability. I have had men tell me that though they would like to date me (or have sex with me) they wouldn't want anyone to know they were interested in "the disabled girl." I actually dated one man in private for several months because of this. In college, most of my friends referred to me as "one of the guys" or "just like a sister." One time a waiter hit on me instead one of the girls in my group and, well, she got pissed off. It came back around to me that she couldn't believe a guy would pick a disabled girl over a normal one.
The scales were finally tipped when at 19 I went to the doctor to get birth control. I was not sexually active but I planned to be and wanted to be on the pill along with using condoms (which had to be polyurethane as I am allergic to latex). The doctor checked me out and during my examination she told me that because of my body my cervix was low and sex would probably be painful for me. She then told me that sex would probably be painful for the man having sex with me, too. I somehow managed to keep it together but when I got home I ripped up the prescription and cried for a very long time. I went through a period of a few months where I literally felt like I was outside of my body. I felt like my entire identity had been taken away from me. In my mind, a doctor had just told me I couldn't have sex.  I was a virgin at the time, so I didn't know whether she was actually correct, but I didn't see any reason to get a second opinion. I was very upset. So few, if any, people acknowledged my femininity, let alone my sexuality, and on top of that I had some monster vagina that would cause my partners and myself pain. It was then I decided I must be asexual.
This was ridiculous, and a part of me knew it. Ever since the hormones kicked in around age 12 I have always been a very sexual person. I found out around this age that I had orgasms just from thinking sexy thoughts and as an adult I very much so enjoy my ability to "think myself off." I love flirting, I love being sexual, and I always related to people who considered themselves sexual outsiders, people who identified as GLBT and other gender benders like cross dressers. I've always read mountains of erotica and navigated my own body to give it maximum pleasure despite the numbness and parts that had limited function. This included kink and fetishes though at the time I was an independent practitioner, using fantasy alone. Yet I went for about a year deciding that I must be asexual. Eventually my sex drive won and I realized that typical sexuality was not going to work out for me. I needed to embrace my kinky side, and I needed to find a partner that was willing to go against the crowd. I met my husband a couple years later and my vagina did not rip off his penis. I ended up going to a specialist and he verified that, yes, my cervix does sit low but this shouldn't have any real bearing over sexual intercourse, I just might not enjoy certain positions that facilitate deep penetration. No monster vagina for me. However, I do admit that sensation play and spanking are much more erotic for me and I need these things in order to reach orgasm. Rarely do I orgasm from penetration alone (which, um, is not exactly a rare problem from what I've researched).
But my identification as a sexual outsider has more to do with sociology than biology. I love being feminine but I feel few people outside the kink community are able to see past my disability to see my femininity. In kink circles and with people who identify as being sexual minorities there is more freedom to be sexual in a way my body needs to be and there is not as much shame. Since then I have explored my sexuality in ways I would not have otherwise. My husband and I have successfully negotiated an open relationship and I have recently begun to appreciate feminine sexuality and have had female play partners. Since my body and my marriage both fall outside the realm of the typical heterosexual monogamous template, I do consider myself a sexual minority.
That is such an incredible journey. I can't believe that doctor! I'm thrilled that you were able to reclaim your sexual self and find your subculture. In what ways do you find this identification helpful? Unhelpful?
It is helpful in that I have a better relationship with my body and I can finally be who I am instead of what everyone else wants me to be or says I should be. I find it unhelpful in that sometimes labels can go against you. For example, I feel more comfortable in GLBT circles but since I am married to a man and act traditionally feminine, I am not always "welcome." Sometimes I feel people are in a competition to see who can be the most "hardcore" in kink and people hide behind these labels just as people in the mainstream hide behind the façade of polite society. I have found a few people in kink who are genuine and that is fantastic. But judgment, shame, and competition exist just as strongly in the kink world as in the mainstream.
What advice would you give your young self in regards to sexuality?
Don't listen to other people! I made myself miserable for so long trying to be what others wanted me to. My family always wanted me to be the nice naïve, inspirational girl I was in elementary school and I know I have disappointed some of them coming out as a sex blogger (though admittedly most of my family still doesn't know). I also fell into a spiral of self-loathing that I couldn't be feminine the "right" way. I didn't want to be androgynous, I didn't want to be one of the guys. I wanted to be feminine. I had to finally learn that I'm not hurting anyone by wearing a skirt and if other people don't approve it really isn't my problem. Also, I am really happy that I confronted my insecurities with things like porn and jealousy at a relatively early age and my husband and I share such an open relationship. I know an overwhelmingly high number of couples who have had their marriages ruined by porn or emotional/physical infidelity at 30, 40, 50. So I do give myself some credit for exploring my sexuality in a healthy way in my 20's. And I'm only 26, so I have a ton of time left to enjoy that security.
 
That is no small feat! So what resources do you recommend to others wanting to explore their outside-the-box sexuality?
Sexuality blogs and podcasts are great (Sex Out Loud with Tristan Toarmino and Psychology in Seattle are two of my favorites) but nothing beats a good book to carry with you and give you a safe space to explore. My two favorite publishers are Cleis Press and Greenery Press.

Your book reviews are pretty stellar. And I'm very envious of your library! You seem to know a great deal about kink. At what forms of kink would you say you are proficient?
I love spanking so I am fairly proficient at turning most household implements into disciplinary objects, however they are all used on me. I have experimented with needles, electric wands and rope, though I am always the bottom and the tops are more knowledgeable and efficient at applying these things than I am. I tend to be more interested in relationship dynamics and sociology than participating in scenes as a top.
I think the most misunderstood part of this world is the underlying motivations for one's sexual desires. Do you know what needs your kink meets for you?
Physical pleasure. I am not drawn to power exchange and though I understand the desire in others I truly do not "get it." I don't have a need to submit or dominate. Because I can't feel half my body, I have erotic zones in really weird places (the crook of my elbow, for example, can give me an orgasm if bit and sucked when I am aroused). Spanking also just feels really, really good. So I really enjoy exploring sensation play so I can have orgasms or feel sexual pleasure. My body is also in pain quite a lot so placing a manageable amount of pain on another body part will alleviate nerve pain. Perhaps it has something to do with interrupting the communication of my nervous system input/output. Whatever it is, I like it.
That is really cool! It sounds like an article on pain as an interruption for pain may be necessary for our readers! Do you have any cool tips on your type of kink?
Not tips, but since I can "think myself off" I do encourage people to use fantasy and masturbate to learn more about what they really desire. I wish masturbation and fantasy were not seen a "less than" partnered sex because I have learned a lot about myself this way.
Besides "thinking yourself off," which is totally awesome, do you have any fun names for things you do?
I can't really think of any names, but as a quirk I do think that Jalapeño Cheetos are THE BEST sub-space munchies. At events my friends get me a bag so I can be blissful and ride the high for a little longer. I get buzzy after a long scene of sensation play. Even though I'm not submitting in the actual sense, I call it subspace anyway.
That's delightful, and I definitely want a bag now. Are there things you haven't tried yet that you might like to get into?
I am interested in more hardcore bondage but with my lack of sensation I need to find someone I really trust. I am also interested in experimenting with age play as it is something I never thought I would do but age players make it look so fun I want to try at a kink event.
There can be so many conflicting or just plain negative messages about sexual outsiderdom. From where do you draw strength and support for doing what you do?
I have few friends in real life that are kinky and I can be my genuine self around. I am slowly "coming out" to friends and family because I don't want my erotica writing kinky sex blogging life to be a secret forever. But since I live in a very conservative small town I worry about my employment security and random harassment that comes with the territory. So I must admit I get most of my empowerment from books. Books on sexuality, kink, porn, disability, open relationships, fat studies, body identity, beliefs, psychology, sociology, emotions, GLBT studies, etc. They are my sanctuary when I feel alone among people I live and work with. People I have never met who are willing to have the conversations no one else in my life had been willing to have with me. As for support, my husband is number one. We talk and experience things together (including sex with others) and we never stop growing. He supports me and we can be real around each other. Sounds cheesetastic but I never thought I would be connected to another human the way I am with him. We charge each other's batteries.

Is there anything about which you'd really like to spread awareness?
I spoke a lot about my body in the above but my real passion in sex blogging and education is teaching good relationship skills and self-awareness. Jealousy, lack of empathy, adhering to social mores, and poor communication lead to really miserable relationships. People label porn, nonmonogamy, and kinks as immoral and blame them for deterioration of relationships. I believe that being manipulative, neglectful, and lying to your partner are much worse. Yet because many aspects of sexuality are deemed evil or unhealthy, people will continue to lie about them, to themselves and their partners. Not everyone in the world needs to be a polyamorous bisexual Dom but we do need to nurture authenticity in relationships. That means knowing what you need sexually and practicing emotional awareness so you can be confident being safe and nurturing to your partner/s in relationships. Jealousy, porn, temptation, etc is not an almighty force that controls you and your body. You control how you treat others. I wish more people would take responsibility for their lives instead of blaming sex and society. Sorry, I'll get off my soapbox now 😉
Your personal story and the work that you do is very moving. I think I can safely say that we all hope you'll stay on that soapbox!
Leandra is currently working on a sexuality memoir entitled "Trophy Wife: Sexuality. Disability. Femininity, scheduled for release in 2015. Follow @Leandra_Vane on Twitter, and check out her fantastic blog, The Unlaced Librarian.