If you haven't yet read my introduction to this series, please do. It provides a foundation for these interviews, and defines "sacred masculinity" as we're using it here.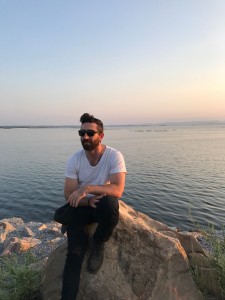 Ty Volante is a tender spirit with a gentle strength. My partner once called him the kind of guy you'd want to have in a repopulating-the-earth sort of situation, and I absolutely agree. He looks for growth, understanding, and enjoyment in most everything he does, and he especially enjoys when any of this happens outdoors. He can often be found enjoying the company of others, philosophizing, talking politics, or engaged in what ever sport the weather will allow.

Ty is an especially delightful interviewee for me to have the honor of including, because he was my first male best friend and also the first guy I met who didn't play by gender "rules." When we met at the sweet age of thirteen, he had rainbow hair and painted nails. I thought that was the coolest, and there has certainly been no shortage of coolness to witness in him in the twenty-two years that we've been friends since.
What would you say are the characteristics of sacred masculinity?
Certainly, strength is one that immediately comes to mind. Courage seems like another that transcends time and cultural influences. Toughness. Adventurousness…
In starting to answer this, I found myself a bit stumped on the most essential characteristics beyond the ones above that immediately popped into my mind, so I turned to the global repository of human knowledge for inspiration. Surprisingly, the first link I clicked on gave me what I was looking for. Despite the cringe-worthy décor and title, this website and this article in particular did, I thought, a nice job at distilling a response to this question. It doesn't hurt that it confirmed some of my already-written responses. Though I don't agree with all of it, I thought it was interesting. Below are a couple of notable passages, though I'd encourage reading the whole thing.
"These were the factors that our forbearers weighed on the scale in making the decision to assign the protector role to men. It wasn't a matter of plain sexism, and trying to keep women down, but a basic biological calculation. In a harsh environment that was rife with perils both natural and human, it was a strategic decision designed to increase a tribe's chances of survival and keep the most people alive. Individual desires and differences were trumped by group needs.

Thus, an innate attraction to and greater comfort with violence likely naturally drew men to the way of the warrior and made them well-suited for being tasked with the role of protector.

Donovan argues that understanding the dynamics of these ancient honor groups is the key to understanding the essence of male psychology and how men relate to, interact, and judge each other even up through the modern day. What men respect in other men (and women find attractive), is rooted in what men wanted in the men to the left and the right of them as they stood together side-by-side on the perimeter.

Strength, courage, mastery, and honor are virtues that obviously aren't exclusive to men, and it's not that there haven't been women who have embodied these traits in every age (as we shall see next time, the idea of a soft, fragile femininity is a modern conception). It isn't that women shouldn't seek these attributes either. Rather, the tactical virtues comprise the defining traits of masculinity. If a woman isn't strong or acts afraid in the face of danger, no one thinks of her as less womanly because of it. Yet such shortcomings will be seen as emasculating in a man, even today."
I also liked this quote I found on a very different site that sort of reaches the same conclusion, with different terms: "Rather than defining strength as 'power over,' feminist masculinity defines strength as one's capacity to be responsible for self and others."
Who are your archetypes of masculinity?
Growing up, they were mostly those I was exposed to through popular culture. Tom Cruise in Top Gun. Harrison Ford as Han Solo. Clint Eastwood in everything. Superman, Batman and other male superheros in comic books. Today, I would say mostly athletes, especially the ones that exist amongst environments rife with toxic masculinity (professional sports) but avoid the negative expressions of their gender that are so ubiquitous there. Interestingly, one could argue that athletics are modern displays of all of the things that make people good warriors and protectors. Strength (really all physical attributes, but the more 'manly' games emphasize strength), teamwork, quick-thinking and strategy, passion, fearlessness/courage. In the way that the author of the post in the last question defined the most essential traits of masculinity as the traits you'd look for in who you'd want to stand with you in war, the modern analog is, what are the traits you'd select in a teammate? In so far as the athlete is the modern archetype of masculinity, he is all of those things, but constrained by honor, respect and sportsmanship. President Obama is, to me, an archetype of the modern expression of masculinity – mentally fit, articulate, strategic, loving, virtuous and kind. He seems like a good man who is also good at being a man, to use a turn of phrase from the article above. And maybe more fundamentally, like I think most people who grew up with a [healthy] father in their lives, he is an archetype that teaches us what it is to "be a man."
What do you think is needed for more of us to understand and embody these traits?
First, I think we need to spend more time as a society asking ourselves what our archetypes should look like, and what makes up the ideals and traits of our conception of masculinity. As much as these ideals are shaped by our cultural lenses, we need to understand our roles in creating them and how we have the ability to encourage or discourage a healthier view of masculinity. And then, we need more leadership from men that will demonstrate (live) these traits in highly visible ways that inspire and compel others to do so too as well as establish them as the ideals.
What role(s) do you believe the masculine has in regards to the feminine? What do you see as a balanced dynamic there?
Yin and Yang. Both equal and essential parts of a whole. Without one, the other is not complete. Just as men need women to continue our species, and vice versa, masculine energy needs its aggressive and violent tendencies softened and smoothed out by feminine energy. In fact, I think most of the problems we see in modern society are due to an imbalance in the way that masculine energy has an out-sized influence in what is predominantly a global patriarchal structure.
What is the role of vulnerability in strength?
Someone smarter than me once said, "Strength is not having no weaknesses, but it is the ability to recognize one's weaknesses and to address them." I'm not sure if that relates to vulnerability exactly, nor was it meant to, but I think admitting weaknesses or shortcomings can be viewed as a form of vulnerability. Furthermore, asking for help in addressing weakness is a form of vulnerability because it requires saying to another, "I'm not perfect, and I need your help." Any time we rely on someone or ask them for help, that requires a level of vulnerability, and so far as we all have flaws, we all should learn to rely on others.

How would you re-define the phrase, "be a man?"
I would like to redefine it "be a good man" in the way that the following passage explains the difference between being a 'good man' and 'being good at being a man.'
"Strength, courage, mastery, and honor are the attributes needed in a team of Navy SEALs just as much as a family of Mafioso. If you've ever wondered why we are fascinated by gangsters, pirates, bank robbers, and outlaws of all stripes, and can't help but think of them as pretty manly despite their thuggery and extralegal activities, now you know; they're not good men, but they've mastered the core fundamentals of being good at being men."
That is, I'd like it to mean not only 'be manly,' as if that was something valuable or good in and of itself, which it isn't really, but 'be a better person.'

What do you think we've been getting wrong about masculinity?
That it just means power and that it is the antonym of weakness. And that being good at being a man means the same thing as being a good man. See above. Finally, that there is no room in masculinity for emotion.
What's your favorite thing about being a man?
Other than the convenience of standing peeing, I don't know if I have one. I joke, but seriously, most of the things that are enjoyable about being a man come from the power and privilege bestowed by a partriarchical society that is fundamentally unjust and that I'd like to see become more egalitarian. I suppose one thing that I enjoy is that I don't have as much societal (and/or biological) pressure to have children younger than I have felt ready.

What do you believe might be the future of masculinity?
I think it will look more like femininity or at least a less pronounced version of what it is now, as more people come to see the virtues of both and the need for balance and the fact that we all possess both types of energy, if only we were not culturally bound by the need to express only one and conform to the mold. The future I see, both men and women are more balanced beings, exhibiting the gender traits that feel more comfortable or natural to them, with no pressure from society to conform to one or the other, but blend the best parts of both and celebrate that, free from social stigma.
Get a little more Ty on Instagram.