If you haven't yet read my introduction to this series, please do. It provides a foundation for these interviews, and defines "sacred masculinity" as we're using it here.
I'm beyond delighted to share with you the words of someone who had a powerful influence on my career-  my high school homeroom and sex ed teacher, Mr. Tom Rogers. It's a sweet homecoming for me to have the opportunity to interview him at all, but even better is that his response is a shining example of his signature positive influence.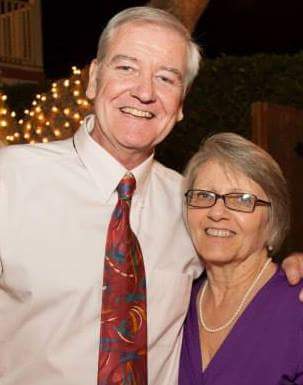 Tom spent a solid portion of his life as a teacher, having focused in college on biblical studies. I imagine there were several challenges to effectively teaching sex ed in a Catholic high school, so I'm all the more impressed and grateful that he approached the subject comfortably, candidly, and with plenty of humor.
He now works at what he jokes is Rogers' Desert Rest. I follow him on social media, and this man is clearly doing retirement right. It's no surprise to me. He always struck me as having boatloads of emotional intelligence, and I do believe you're about to see what I mean.
I remember being told I was a boy. I do not think I have ever been certain, man or boy, what that truly meant. Life does not give us a chance to wait to be sure. It lives and so must we, full of doubt, and endeavor of faith.
Comparison and contrast seem to me the two feet of living. So I remember watching men and older boys to find a model to copy. From as long as I can remember I had an intuition to spot the phonies. It was as if I had a built in bullshit detector. It sounded most loudly at evidence of exaggeration. The overblown, the overly insistent, the demanding. Bullies and braggarts repelled me with what I would later learn was called inauthenticity. So I decided to be a truth-teller and as much as possible a person who lives his truth.
I remember how fascinated I was with what then I thought was my opposite. I was told that they were girls. I liked them from the very start! As I look back now I am realizing that I think I thought they were more real, confident in who they were. I wanted to be friends with girls, get closer to them to see them up close maybe this was because I felt closer to my mother's way of being than my father's distant busy-ness with the things of manhood. So the contrast I sought (can I figure out how to be a boy by not being a girl?) was a path I rejected early. Instead I searched for friends, like-minded peers who shared my disdain for the caricatured machos and the silly flirts.
My first masculine role models were the religious brothers who taught the boys from 6-8th grade. My favorites were the really smart ones who captured my interest by their passion for whatever stories they were telling. Their vitality in the classroom as well as the athletic field resonated with the person I was becoming. They displayed a kind of powerful humility. No boasting, just real knowledge and real action. I admired how they always had time for us. We were their work, their project and I realize now that I felt so proud that they never seemed bored with us. I felt relevant, meaningful.
An incident occurred with one of these brothers that helped me define myself to my surprise. He asked me to stay after school to talk about something. He got right to the point. Did I ever think about becoming a brother? I answered immediately. "I like girls too much!" He looked disappointed. I think I too felt a loss of connection to one of my heroes. Pursuing the truth of this statement became an important quest for me.
The sexual desire that drove me out of myself, this great gift of relating, proved very challenging and engaged me in a most difficult struggle with myself and my desire for sexual pleasure. My ideal of honesty at times seemed at stake, as dishonesty proved a better way to navigate the way into a girl's arms. Whether it was my Catholic guilt or a more profound loyalty to my truth, I never became comfortable with deception.
Fortunately for me, I found an honest erotic love at a young age. It may not sound romantic but I feel like responsibility was one of the strongest ways I experienced my role in this life changing relationship. Caring translated into taking care of another person. This became our path as we served each other with heartfelt passion in every room in our many apartments.
We became parents and partners in what we still experience as the mystery of our life together. As a father of four boys, I sometimes felt as if I knew what each of these boys needed by tapping into the unmet needs of my own father-son relationship. Freedom to be themselves as their own gifts emerged was the gift I wanted to give them and yet I know I placed strong demands on them when I feared that my shaping hand was failing.
As a teacher I feel like I found the best vocation to give to others as they strove to grow and mature. Though my sex education classes came about quite accidentally, I found there a natural way to help lead young people out of shame and confusion but also affirm their erotic awakenings. I believe together we discovered a sensual path to healthy and healthful sexual development with lots of laughter along the way.
Later in my life after retirement I found myself, like Dante, in a dark wood. My journey through a most unexpected depression proved an encounter with the vulnerability I had fought against in all of the expressions of my masculinity. A sober realism provided the tempering influence to an idealism and high energy generativity that I thought wholly defined me. I learned in a therapeutic dialogue that an acceptance of the real was necessary to keep hold of my self as a powerful yet far from omnipotent creature.
As I look toward the future I take comfort in the many young fathers I know who proudly nurture their children and welcome a balanced partnership with their beloved.